TERESA KANG, DDS, PLLC
Using advanced cosmetic dental Kirkland, WA Cosmetic Dentist, Dr. Kang, can make a real difference. The skill, experience, and commitment of our practice — using a unique combination of science and artistry — can literally redesign your smile. Even a subtle change in your smile helps you to project an image of self-confidence and high personal esteem. When you feel good about yourself, it shows in your appearance.
FEATURED COSMETIC TREATMENT – SAME DAY SMILE / COMPONEER
We offer a variety of cosmetic treatment options to help you achieve your desired smile. We are excited to be offering a minimally invasive treatment option where you can drastically change your smile without the need to prepare your teeth and it can be done without anesthetic and you leave the same day with a new beautiful smile. This procedure can be help close spacing, reshape teeth, cover heavily discolored teeth and improve the appearance of misaligned teeth. It is fast, cost effective and minimally invasive.
COSMETIC TREATMENTS - BEFORE AND AFTER
Improving the appearance of existing fillings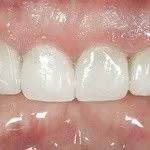 Closing space between teeth/ Diastema Closure
Desire to change shape of teeth/ Incisor Length Correction
Correction of misaligned teeth, Pegged lateral, and clossing spacing
Cover discoloration
Attrition, Erosion ad Abrasion
Above pictures courtesy of Coltene
Advantages
Conservation of your own tooth structure
Can be done without anesthetic
New smile completed the same day
No temporary restoration
COSMETIC TREATMENTS